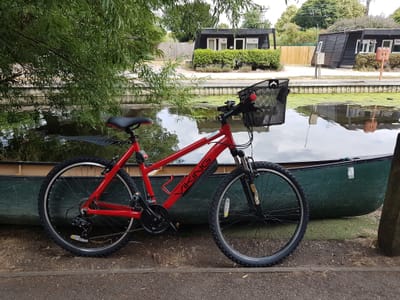 All participants Agree to the following terms and conditions and will be bound by them during this and any future hiring.
You accept responsibility for your own actions and realise that canoeing and cycling include an element of risk
LEE VALLEY CANOE CYCLE reserve the right to refuse hire for any reason
LEE VALLEY CANOE CYCLE will do everything possible to ensure boats and cycles are in a clean and serviceable condition before releasing for hire. Hirers should check the equipment and bring any defects to attention of a member of LEE VALLEY CANOE CYCLE staff before setting off.
LEE VALLEY CANOE CYCLE cannot be held responsible for any loss, damage or injury as a result of this hire.
The hirer is responsible for the boat or cycle along with its fittings, accessories and safety equipment from the time of collection to the time of return. Any loss or damage will be the responsibility of the hirer, at the retail repair or replacement cost prevailing at the time.
The hirer will be responsible for the security of the boat or cycle, until returned to LEE VALLEY CANOE CYCLE
Hire charges will be estimated and taken at the rates displayed, adjustments being made on return of equipment
The participants agrees that the boat or cycle will be used in an appropriate manner, within the laws and regulations, with due regard to other users of the river, marshes, tow paths and cycle tracks.
If a boat is to be used away from the River Lee Navigation it is the hirer's responsibility to have the appropriate licences and permissions for the use of any waterways.
Sorry we do not allow pets in our boats, or cycle baskets.
It is the Hirer's responsibility to report any incidents or accidents on return of the boat or cycle.
LEE VALLEY CANOE CYCLE reserve the right to surcharge for unauthorised overdue hire.
OTHER THAN EXCEPTIONAL CIRCUMSTANCES 48 HOURS NOTICE REQUIRED FOR CANCELLATION.